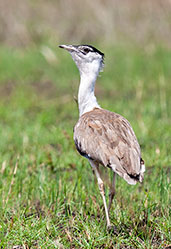 Lakefield National Park, Queensland, Australia
November 2010

The Australian Bustard was distributed throughout most of Australia as well as southern Papua New Guinea. With European settlement, it has disappeared from the more populated areas of the south-east, south-west and southern Australia. It is found in a variety of grasslands and scrub.

It feeds on seeds of grasses and other native plants as well as grasshoppers, crickets, other insects, small mammals such as mice and reptiles.

It is a large bird with a dark crown and nape and usually has its head pointing rather aloofly in the air. The male has a black breast band which is missing in the female.