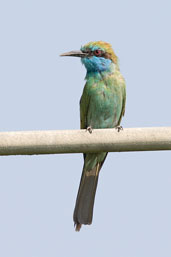 United Arab Emirates


The Arabian Green Bee-eater is distributed in the Middle East. See the distribution map at Birdlife International.

It is usually found in dry, open country with scattered trees and in wadis, gardens and farmland.

It feeds mainly on flying insects taken in sallies from a prominent perch but they also eat beetles, termites, spiders and caterpillars.

It nests in a burrow about 1 to 2 metres long which they excavate in the ground.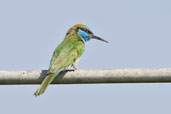 Photo 4 shows an Arabian Green Bee-eater alongside a Laughing Dove Streptopelia senegalensis.

Many authorities include this species as a sub-species of Green Bee-eater M. orientalis but the HBW and Birdlife International checklist separates it on the basis of its shorter central tail feathers, its blue forehead, supercilium and throat and its broader black breast band.