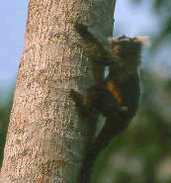 Amazonia National Park, Brazil
September 2000

The Tassel-eared Marmoset is endemic to Brazil and only lives south of the Amazon between the rivers Tapajos and Madeira.

The Marmoset family falls into two groups: those with short lower canine teeth known as Marmosets; and others with relatively longer lower canine teeth ("long-tusked") known as Tamarins.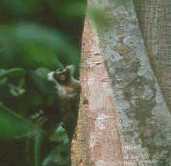 The tail is not prehensile, i.e. it cannot be used for hanging from, and the fingers have claws which is an obvious advantage for these tree-living monkeys.

They feed on fruit, insects, flowers and the sap or gum of trees. I took these photos when a small group of Tassel-eared Marmosets crossed the Transamazonica Highway (here a single lane dirt track) to take sap from this tree. The third picture shows a marmoset feeding from the wound it has created in the tree bark.