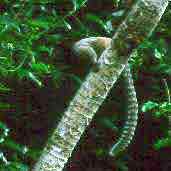 São Francisco Valley, Minas Gerais, Brazil
January 2002

The Black-tufted-ear Marmoset is usually found in groups of up to a dozen and is active during the day.

They are found in north-east and central Brazil and there are two subspecies. This one is C. p. jordani. It has black ear tufts as the name suggests and a white blaze on its forehead. Unfortunately, every time I took a photo the marmoset decided that it looked better in profile!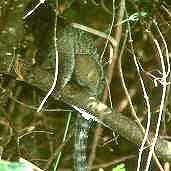 They eat fruit, insects and tree sap which they extract by biting holes in the bark in a similar way to the Tassle-eared Marmoset. They live in forests, upland scrub and even city parks.

There are illustrations in Eisenberg, Plate 7 and in Emmons, Page 108.