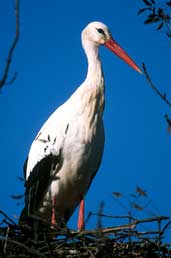 It has a varied diet but which is exclusively animal including lizards, snakes, frogs, insects, etc.

Most spend the Northern winter in Africa south of the Sahara and there are spectacular migrations along 2 routes at either end of the Mediterranean. Those that use the Straits of Gibraltar route tend to come from west of the French- German border and winter in West Africa, while the others use the Bosphorus route and tend to winter in Southern Africa. See the distribution map at Birdlife International.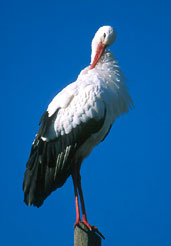 There has been a severe decline in numbers in Europe since the Second World War and the biggest concentration remains in the Iberian Peninsula.

However, it is generally well protected given the reputation it has for being a lucky bird. The myth about storks bringing babies probably arose because they arrived back in Europe on fairly predictable dates and almost exactly 9 months after the previous mid-summer.

They are much given to bill clapping when excited or displaying.