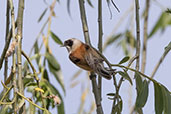 Spain
May 2022

The Eurasian Penduline Tit is distributed throughout much of Europe and into western and central Asia although it is migratory in the north and mainly resident in the south. See the distribution map at xeno-canto. It is found in deciduous trees near rivers, lakes and swamps where there are suitable trees from which to hang its distinctive nests.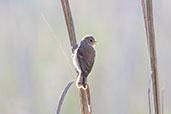 It is very small with a pointed, conical bill. The adults have a black mask on a grey head and a reddish-brown mantle and back. The juvenile, seen in photo 2, is much duller with hardly any mask at all.

The nest is fixed at the end of a thin branch and is shaped like a pouch with an entrance to the side at the top. The outside is covered with seed-hairs from trees typical of its habitat such as willow, aspen and bulrush.

There are often a few nests close together but the same male may start several nests with different females.