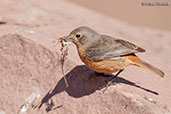 The male, seen here in photo 1, is striking and unmistakable. The female (photo 2) is a bit like a female Common Redstart P. phoenicurus but more orange below and with a shorter tail.

Jean Moussier was a surgeon in the army of Napoleon and an amateur naturalist.

The song is a series of scratchy warbles.