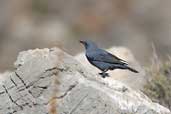 Crete, Morocco, Spain and Ethiopia
The Blue Rock-thrush is distributed in southern Europe, north Africa, the Middle East and across Asia into China and Japan. See the distribution map at Birdlife International. It is found on rocky coastlines and cliffs, in mountain valleys and in large ruined buildings.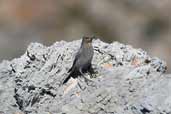 They feed on insects, lizards and fruit.

It is slightly smaller than a Blackbird and the male is a dull blue-grey with blackish wings. The female is dark brown and mottled with a dark throat as seen in the 2nd photo. The 3rd and 4th photos are of a young male, probably 1st winter plumage with mottling and pale tips to the primary coverts.