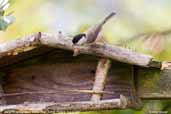 Monks Eleigh, Suffolk, England
August 2007

The Marsh Tit is distributed in most of Europe with a disjunct population in southern Siberia and north-east China. In the British Isles, it is not seen in Ireland or Scotland except for the south-east. See the distribution map at Birdlife International. It is found in damp deciduous woodlands and in parks or gardens where there are plenty of trees and cover.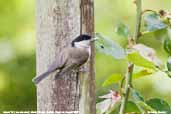 It is very similar to Willow Tit which is less likely to be found in gardens and more likely to be found near rivers.

There are a few features that distinguish the two species. The Marsh Tit does not have a pale panel on the wings, it has a glossier black cap (though this is not obvious in poor light), less buffy-brown on the flanks and it has a more slender neck.