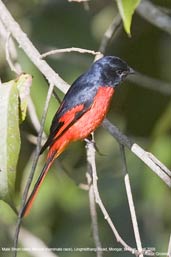 Lingmethang Road, Mongar, Bhutan
April 2008
There are three Minivet species, the Short-billed, the Long-tailed and the Scarlet Minivets that look remarkably similar. I hope that I have got the identification correct. Please let me know if you think I have got them wrong. I think that some of the images available on the internet have been wrongly identified and I hope that I am not adding to the confusion.

The Short-billed Minivet is distributed from the central Himalayas through to south-east China, northern Myanmar, northern Thailand and northern Indochina.

It is found in evergreen, deciduous or pine forest mainly on the edges and at between 900 and 2,745 metres.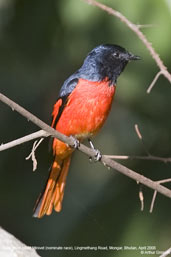 The main visual feature differentiating the various species is the shape of the wing patch. In the case of the Short-billed Minivet, there is no red line along the edge of the secondaries as there is on the Long-tailed Minivet P. ethologus and there are no red spots at the tips of the inner secondaries and tertials as is the case in the Scarlet Minivet P. flammeus.

There are recordings on xeno-canto and additional information on Avibase.