Trip Report Central and Southern Chile
12th November to 13th December 2005
Introduction:
This was not exclusively a birding trip but the birding proved to be well worthwhile. There were 4 of us including my wife, her sister and her brother-in-law. Although my wife and I knew Chile quite well having lived there for several years, it was her sister and brother-in-law's first visit to South America. They are enthusiastic hill-walkers and I thought that we could combine their interests with mine which, on the whole, proved to be the case.
We found the Chileans as charming and helpful as ever with quite a noticeable improvement in standard of living since we last lived in Chile in 1991. One consequence of this is a noticeable price inflation - Chile is not now a cheap destination - but it also manifests itself in such things as much improved roads and a greater choice of accommodation.
One thing that surprised me was the difficulty in booking accommodation over the internet. There were only a few places where you could do this with any ease but the majority were complicated and some involved sending faxes of forms and copies of credit cards which seems a bit antiquated in this day and age. For details see below.
Preparation:
I looked up a lot of the trip reports available but the two I found most useful were that of Svend Linderström at http://www.surfbirds.com/trip_report.php?id=631 and Gruff Dodd's report at http://www.birdtours.co.uk/tripreports/chile/chile7/report-nov-02.htm
The five books I used were:
"Birds of Chile" by Alvaro Jaramillo, illustrated by Peter Burke and David Beadle.
This is an excellent field guide and a model for others though helped by the relatively low number of species in Chile.
"The Essential Guide to Birding in Chile" by Mark Pearman.
This covers 41 of the most important bird sites in Chile.
"Where to watch Birds in Torres del Paine National Park, Chile" by Enrique Couve and Claudio Vidal-Ojeda.
While not essential, it gives some useful information about habitats in Torres del Paine.
"Annotated Checklist of the Birds of Chile" by Manuel Marín
An interesting addition but not essential unless you like a checklist to note your sightings.
and "The Rough Guide to Chile"
I compiled a playback tape using mainly the CD "Voces de Aves Chilenas" by Guillermo Egli. Extracts from many of these recordings are available on the internet at http://fvcom.whoi.edu/~andres/aves/sonido.html and I used the excellent xeno-canto website for other species such as Chestnut-throated Huet-huet.
As it turned out, I used this playback tape on very few occasions. Maybe I was lucky but the vast majority of the birds were seen and photographed without having to use playback.
I bought a road atlas of Chile from Stanfords but, while adequate, it was not great and proved to be out-of-date and positively confusing in some areas down south. There is apparently a good road atlas published by the petrol company Copec available in Chile but I didn't see one. It seems to be available here. However, for planning purposes at least, there are excellent road maps available on line at http://www.turistel.cl/v2/secciones/mapas/informacion/index.htm
Getting there:
Once again I relied on Journey Latin America to advise me on the best flights and they suggested and booked for me return flights from Edinburgh to Frankfurt and Frankfurt to Santiago on Lufthansa. Our plan was to drive from Santiago south to Puerto Montt, fly to Punta Arenas then fly back from Punta Arenas to Santiago on our way home. Though this added cost to the car hire, it meant we avoided long car journeys in both directions. Journey Latin America also booked us on these internal flights.
Transport:
I had to book 2 cars, one for Santiago to Puerto Montt and the other at Punta Arenas. The first car I booked on the internet through National which seemed to have the best price for a recognisable company. When I went to pick up the car at Santiago airport, I went to the National desk and was re-directed to the Alamo desk being told that the two companies had just merged. (I think this referred only to the Chilean franchise but I am not sure.) They were very pleasant, told me I had an upgrade to a larger 4WD vehicle, a Nissan Pathfinder, and charged me only about ¾ of the total explaining I would pay the balance when I dropped the vehicle at Puerto Montt. This turned out to be the beginning of what I thought was a scam.
The vehicle was a bit old and dirty but certainly larger than I had expected. They had explained that there was very little petrol in it but there was barely enough to get me to the first petrol station in Santiago. Added to that, they had left it in the lowest of low 4WD gears which I did not realise until I was on the motorway and I had to stop in a dangerous position in order to move it into a normal transmission.
The real problem came when I handed the vehicle back at Puerto Montt. The clerk calculated the balance in pesos and asked me to pay it. I was calculating how much that plus my payment in Santiago came to when converted to dollars and it seemed to be much more than the quote I had originally received from National. I asked for a detailed bill and was told that one was not available in Puerto Montt but that the Santiago office would send one to my home address. I had a flight to catch and there was a queue building up so I paid the balance requested and assumed that I would be able to sort out any discrepancy with National on my return.
Once back home, I calculated that I had been overcharged by about US$500. I e-mailed National and received a reply from someone who obviously understood nothing about exchange rates that it was all due to the exchange rate. After much toing and froing they eventually almost admitted that they had no jurisdiction over their franchisee in Chile. I wrote to Alamo in the UK to see if they could help and they were of no assistance whatsoever. Eventually, I received a cheque for US$250 which covered about half of what I calculated I had been overcharged. In all this process no one was able to provide a detailed bill despite repeated requests. To add insult to injury, the credit card payment I had made in Puerto Montt had been charged twice, once in Puerto Montt and once in Santiago. I had to refer the matter to my bank before I got the second payment refunded. So, all in all, I would not recommend either National or Alamo to anyone. I certainly will never use them again.
By contrast, I hired a vehicle from Hertz in Punta Arenas. The vehicle was newish, clean, full of petrol and I paid the agreed amount on collection and had nothing to pay at drop-off. I booked this by phone rather than on the internet and managed to get a discount because I am a member of the AA in Britain. I'm not sure if it is possible to get such a discount if you order via the internet.
In both cases I ordered 4WD vehicles (specifically a Suzuki Gran Vitara) though I was given a larger Nissan by National. A 4WD vehicle is not strictly necessary but I was glad to have it going to the Embalse del Yeso where streams about 25 cms deep were flowing across the road and at Campana National Park where it would have been impossible to drive beyond the entrance without a 4WD. I don't think the guards would have given us the key to open the gate on the road if we had not been in a 4WD. It was also quite useful though not strictly necessary for Nahuelbuta National Park and in Torres del Paine.
Money:
Some of the accommodation was pre-paid and most other places accepted credit cards as did most restaurants and petrol stations. A few did not so it is always handy to have some Chilean pesos which are fairly readily available at ATMs.
Accommodation:
Because there were 4 of us, I decided to book everything in advance and this would probably have been a good idea even with just two of us as most places were fairly busy. The following is a list of accommodation, the method of booking and a few comments on the place.
Santiago:
We initially stayed at the Novotel, Vitacura which was a pleasant and not over-expensive city hotel. We also stayed at the Bonaparte Hotel in Santiago which was excellent - a nice, friendly, small hotel.
Viña del Mar:
We stayed here two nights to do a bit of sight-seeing and as a base to visit La Campana National Park. I booked the Best Western Marina del Rey Hotel through Last Minute Travel which I wrongly assumed was something to do with lastminute.com but turned out to be an American outfit. We paid this at the time of booking and checked in without any problem. The hotel was adequate. On checking out we were presented with our bill so I showed the management our reservation confirmation from Last Minute Travel which confirmed that we had already paid. They claimed they had not been paid and that Best Western Hotels did not accept pre-payment from travel agents (which sounds like bullshit to me) and since this looked as though it would not be resolved swiftly, we decided to pay and sort it out later. Interestingly, the hotel charged us US$60 per night for a double room whereas Last Minute Travel had charged us US$95 per night. When I eventually persuaded Last Minute Travel that we had been charged twice they refused to repay us the US$95 rate but eventually contacted the hotel who repaid us less than the US$60 rate because, in the interim the Chilean peso had devalued against the dollar. So there's another lesson: don't book through Last Minute Travel and be wary of Best Western Hotels.
Los Angeles:
We stayed 5 nights at El Rincon, near Los Angeles and used this as a base for Laguna de Laja and Nahuelbuta. This guest house is run by Elke and Winfried Lohmar. I booked it via e-mail with Winfried but note that he has to go into Los Angeles to access the internet so replies are not instant. Elke cooks the most marvelous food which seemed to be largely organic, much of which was grown in her own garden. The wine flows freely at dinner though I did think Winfried put an excessive number of bottles on our final bill. Such are the problems of being Scottish and having stereotypes forced on you. I would thoroughly recommend this place and you will find both Elke and Winfried helpful and charming.
Villarica:
Many years previously we had a marvellous family holiday staying at the Hotel El Ciervo in Villarica which was then run by an ancient Berliner who proudly flew the Berlin flag in front of his hotel and served up enormous plates of good, wholesome food. The hotel has now changed hands but is very pleasant and efficient.
Aguas Calientes:
I wanted to visit Puyehue National Park and Aguas Calientes proved to be a good base. We booked a cabin through gotolatin.com (see http://www.gochile.cl/eng/Guide/ChileNationalParks/Puyehue/Puyehue-3.asp). Gotolatin.com is quite a complicated agency to deal with as they require you to fill in a form with details of passport numbers and credit card which they expect you to send by fax. Bookings are paid 100% in advance and you receive a voucher. So not exactly 21st century stuff but it seemed to work after a bit of frustration.
The cabin itself was a comfortable log cabin with cooking facilities and a wood-fired heater. Not knowing what to expect, we had filled up with supplies in Osorno but there is a restaurant there if you wish. We never used it.
Caulin, Chiloe:
By luck (Gotolatin had messed up my original booking for Ancud) they suggested Cabañas Caulin Lodge as an alternative. This was paradise. A few cabins almost on the beach looking out over the seaweed harvesting operations on the shore and with a very good restaurant serving seafood. Apart from that, there were lots of good birds about (though the flamingos are only there in the winter).
Castro, Chiloe:
I wanted to use this as a base for Chiloe National Park and tried to book into the legendary Hotel Unicornio Azul. This featured on a list of the 10 best hotels in the world in some magazine a few years back but the choice was, to say the least, a bit quirky. It did not look anything particularly special. In the end we stayed at The Hotel Esmeralda which was adequate. I also booked this through gotolatin.com.
Puerto Montt:
With an early plane to catch, we decided to overnight in Puerto Montt. I booked the Hotel La Peninsula largely on the basis that it said it was 20 minutes from the airport. It was a nice hotel but it was a lot further from the airport than that.
Torres del Paine:
My sister-in-law and her husband were doing the "W" trek at Torres del Paine and booked their refugios through Pathagone. We knew Torres del Paine would be expensive but we tried to find reasonable accommodation. My wife and I spent one night at the Hostería Lago Tyndall which had reasonable rooms but the food was poor. The rest of our stay we were at the nearby Cabañas del Paine where we had a very nice cabin, the food was good and the service was excellent.
You really have to book well in advance for Torres del Paine and accept the fact that accommodation is expensive unless you are camping.
Punta Arenas:
Here we stayed at the Hotel Mercurio which turned out to be a nice, family-run hotel at a reasonable price.
Itinerary:
Saturday, 12th November:
I arrived at Santiago airport from Brazil, picked up the hire car and drove to the Novotel where by wife and her sister and brother-in-law had arrived an hour earlier after flying from Edinburgh. So I drove them round Santiago in the afternoon looking at some of the houses we used to live in while they recovered from jet lag.
Sunday, 13th November: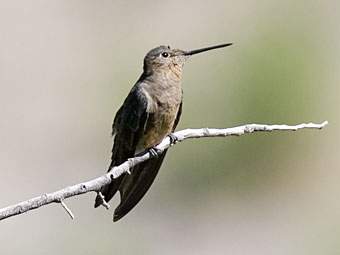 Off to the Cajon del Maipo and the Embalse El Yeso after buying some lunch at a supermarket in Puente Alto. I decided to go up the valley on the very attractive road south of the river and return by the main road north of the river. I stopped at the crags just after the turn off to the dam to look for Crag Chilia and, though I heard it, I did not manage to see it. As a consolation, I managed to get a good photo of Giant Hummingbird. We drove up to the dam which was already filling up with Sunday day-trippers. Unfortunately, there had been a rock fall across the road so we couldn't get past the dam to look for Diademed Sandpiper-plover.
However, there were a few birds up here that we were not to see anywhere else on the trip such as Black-winged Ground-dove, Greater Yellow-finch and Band-tailed Sierra-finch and we had excellent views of Plumbeous Sierra-finch feeding at the edge of the melting snow and of a Scale-throated Earthcreeper carrying food to its nest under a large boulder.
On the way down, I stopped again at the Crag Chilia site but, at this stage, a Chilean family had set up a picnic under the crags and there was no way the bird was going to appear with the noise being made.
Monday, 14th November: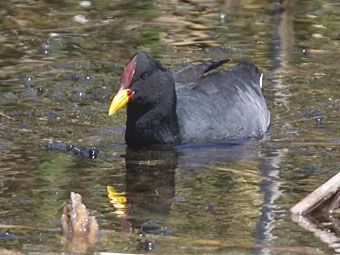 We checked out of the hotel in Santiago and made our way to Viña del Mar. I had hoped to visit the Lago Peñuelas National Reserve on our way to the coast but found that it was closed on Mondays. So we carried on down to Viña, checked into our hotel and set off along the coast to Concon. We drove across the Rio Aconcagua and found a beach car park about 5 kilometres further on. We were the only people there and, while the others went for a long walk along the beach I set about taking photos of the birds along the shore. There were hundreds of Hudsonian Whimbrel and Franklin's Gulls, some immature Grey Gulls a few American Oystercatchers plus one Blackish Oystercatcher and various other birds.
I then set off to look for the "Reed-fringed tidal lagoon" mentioned in Mark Pearman's book and thought I would be able to reach it by crossing the railway bridge. Fortunately I was only just starting to cross when I heard a train approach so swiftly got out of the way. It was a very long mineral train presumably on its way to Valparaiso docks. Discretion being the better part of valour, I decided to wade across the river mouth which turned out to be not very deep at all. I then climbed over the dunes and came across the lagoon which was teeming with water-birds including 3 species of Coot, Red-fronted, White-winged and Red-gartered, White-tufted and Great Grebes, a few Black-crowned Night-heron, a Snowy Egret, a pair of Cinnamon Teal, some White-backed Stilt, a Spectacled Tyrant and a Yellow-winged Blackbird. I took about 200 photos here.
Tuesday, 15th November: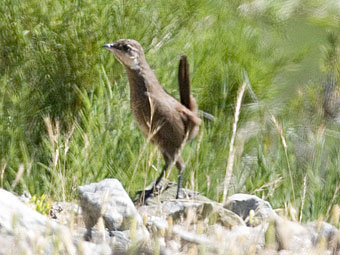 Off to La Campana National Park where the guards gave us a key to allow us to drive past a gate and up to the old mine shaft. From there our hikers set off to climb to the summit in the footsteps of Charles Darwin, while I wandered about looking for birds.
What a joy it was to find an Elaenia, the White-crested, that I could identify with ease. Not only does it have a few distinguishing features but it is also the only Elaenia in Chile. A bird that was calling frequently up here was Moustached Turca. This was one of the few occasions on the trip when I used playback to try to entice the bird into the open but to no avail. I had given up on it so, as we descended the road, I was delighted to see one at a bend. I was driving but managed to grab my camera and lean out of the window to get a couple of shots. My wife thought I should have stopped the car first.
Wednesday, 16th November:
After an early morning walk around Viña, we headed back to Santiago stopping at the Lago Peñuelas National Reserve on the way. There wasn't much around and the best looking areas for birds were fenced off. There were also a lot of folk fishing on the shores of the lake.
Thursday, 17th November:
A day of travel as we drove down the much improved Panamerican Highway to Los Angeles and El Rincon. We left at 8:45 am and arrived at 4:00 pm. Elke and Winfried Lohmar were very welcoming and suggested that we might like to stay in the cabin rather than in their normal accommodation. This was excellent for the four of us and allowed me to wander about at dawn without disturbing anyone. We even had a House Wren nesting in the eves of the verandah.
Friday, 18th November: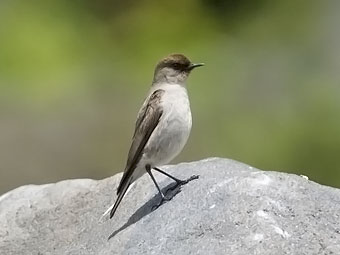 We were up bright-eyed and bushy-tailed but then the car refused to start - a flat battery and an automatic car so no way to push start. Winfried was very helpful but didn't have jump-leads so he drove me into Los Angeles where I bought some and we sorted out the problem. After this late start we headed up the road to Laguna del Laja National Park.
The Antuco Volcano was covered in cloud so the hikers went off to the waterfalls while I birded up and down the road managing photos of some ground-tyrants, a Dark-bellied Cinclodes and a pair of Rufous-tailed Plantcutters who were singing their strange, raspy song.
In the evening Elke had prepared a fantastic meal of Asparagus soup, Merluza fish and Chirimoya Custard Apple.
Saturday, 19th November: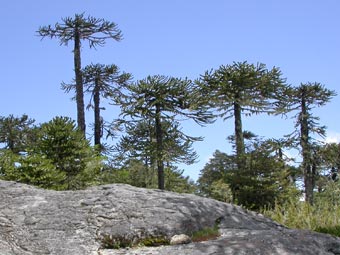 We set off for Nahuelbuta National Park at about 10:00 am and arrived at about 1:00 pm which was longer than I had calculated. We had our picnic lunch near the campsite and saw a pair of Slender-billed Parakeet fly over. Then the hikers went off to climb Piedra de Aguila while I took the car round to the car park from where I had only a short walk to the rather spectacular Piedra. The path had a few Chucao Tapaculo calling but none were seen. At the Piedra I managed to see a White-throated Hawk but it was too far away for a decent photo. The view from there is spectacular because you can see the snow-covered Andes on one side and the Pacific Ocean on the other. In fact the park is spectacular because you can see this magnificent Araucaria forest and also the almost magical southern beech Nothofagus forest with the trees festooned with mosses.
Sunday, 20th November: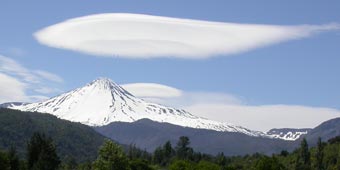 Breakfast was at 9:00 am on Sunday so I spent some time before breakfast taking photos around El Rincon. Amongst others there was a pair of relatively cooperative California Quail which are normally very skittish. The day was bright and sunny so we headed back up to Laguna de Laja National Park. The hikers went off on the Sendero de Zorro circuit which is part of the track round the Volcan Antuco while I set out to track down Chestnut-throated Huet-huet. This seems to be one of only three known sites for this species. Following Mark Pearman's map, I took one look at the scree slope that needs to be climbed to get to the forested valley where this species is found and decided that I was too old for that approach. I then headed towards his track A but the road was barred with a large notice saying "Entry prohibited" and I never like to go beyond such notices (except in Scotland). The final area was track C which was a very pleasant track through woodland by a stream. I tried playback but reply there was none. There were other birds to compensate such as the Yellow-rumped Siskin but, in general, it was a quiet day's birding.
Monday, 21st November: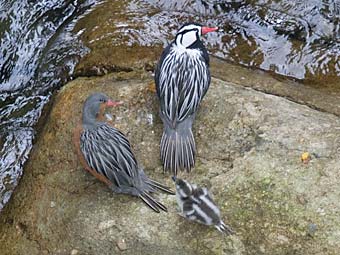 We had no particular plans for the day and Winfried suggested that we might like the Alto BioBio but first we went to the Salto de Laja. It was full of tourists who didn't seem to notice all the Dark-bellied Cinclodes enjoying the spray from the waterfall and displaying on the telephone wires. We drove up the BioBio as far as the Ralco dam but there wasn't much about so we turned round and had our picnic lunch beside a chain-driven ferry across the river.
Lower down we crossed the river by bridge and shortly after stopped at another bridge over a narrow ravine in which flowed one of the BioBio's tributaries. As we looked over the ravine I noticed, directly below us, a family of Torrent Ducks consisting of male, female and two ducklings. I got some great photos just pointing my camera straight down on them. We could hear the male's high-pitched whistle above the noise of the rushing stream. Further along the road we saw a Chilean Tinamou walking along the road in front of us. Before I could get too close, a car came the other way and the bird moved off into the shrubbery.
Tuesday, 22nd November: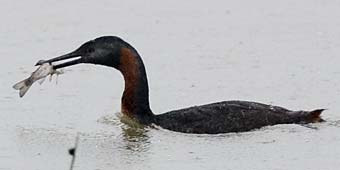 The weather forecast was bad and we hit rain just south of Los Angeles. It was to stay with us for the next seven days. I was expecting rain on the trip but only from Chiloe southwards. This was most disappointing and unusual according to the locals. There was a cold front coming off the Pacific, hitting the mountains and then doubling back on itself.
When we arrived at Villarica, the rain had eased a bit and I got a few shots of birds including a Great Grebe fishing. Then it was off to the local museum which, amongst other things, had a photo of Mapuche Indians playing a game that looked for all the world like shinty. This greatly excited my brother-in-law, a noted shinty player in his youth many years ago.
Wednesday, 23rd November: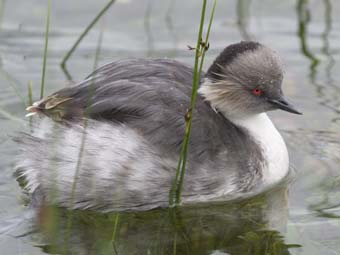 I managed to get some photos on the lake before breakfast including some distant Wilson's Phalarope, the only phalarope found inland in Chile. However, after breakfast, it started to rain again. We headed for the Huerquehue National Park on the shores of Lago Caburgua but the park guards said that the muddy trails were too dangerous in this heavy rain so would not let us in.
The day was looking a bit of a wash-out but one delightful option on a rainy day is to sit in a hot spring and let the rain pour down on your head. So we headed off to Termas de Huife and did just that. Very relaxing. After that we did a bit of sightseeing in Pucon - much more upmarket and expensive than Villarica - before heading back to Villarica where I managed some good photos including this very obliging Silvery Grebe which was feeding at the water's edge.
Thursday, 24th November:
It rained all day. The hikers had been looking forward to climbing Volcan Villarica but this was now looking very unlikely. We decided to do a tour round the 7 Lagos and managed 5 of them and even a 45 minute walk when the rain was not so heavy. Bird-wise it was a poor day apart from some Lake Duck at Panguipulli and a large flock of Austral Parakeet in a field. We cheered ourselves up by having a very nice dinner at El Rey dos Mariscos in Villarica.
Friday, 25th November:
Pinochet's 90th birthday which he seems to be spending under house arrest. We travelled from Villarica to Aguas Calientes and the weather gradually improved as we drove south. We stopped in Osorno for supplies but these were not strictly necessary because breakfast was supplied in our cabin and there was a restaurant at the site. Late afternoon saw us talking a walk to the Mirador where we heard and then saw Chucao Tapaculo and Black-throated Huet-huet.
Saturday, 26th November: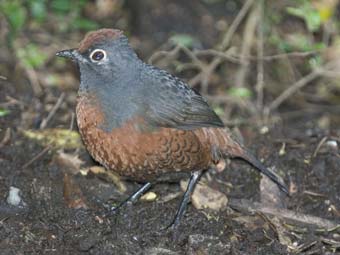 We woke up to more heavy rain. Apparently, rain is quite common at Aguas Calientes at this time of year. Apart from a drive up to the frontier to see what the habitat was like, we spent most of the day in and around the cabin and took advantage of the Thermal Springs which, as cabin residents, were included in our rent. Fortunately there were a few birds around our cabin including a very obliging Black-throated Huet-huet who was scratching for food under a tree about 5 metres from our cabin door. It seemed to have a circuit and would reappear at the same spot every 30 minutes or so.
Sunday, 27th November:
Before breakfast I had found a nice site for Chucao Tapaculo but there was so little light that my automatic focus wouldn't work quickly enough. After breakfast the weather was looking reasonable and we dropped the hikers off near the frontier at the Sendero Chileno. I then went off to look for Ochre-flanked Tapaculo. Incidentally, there is a misprint on Mark Pearman's map of the site. The distance between the road end and the waterfall is 20 kilometres not 2 kilometres. This was one of the few occasions when I used playback. The bird responded and I had quick views of it but not sufficient to get a decent photograph.
By now the weather had deteriorated so I went for a drive to Lago Rupanco then headed back to the cabin where, to my delight, I heard and then saw a Chucao Tapaculo in the bushes at the back of the cabin though he didn't oblige me with a photo.
In the late afternoon I picked up a pair of very wet but reasonably happy hikers at the agreed rendezvous spot.
Monday, 28th November: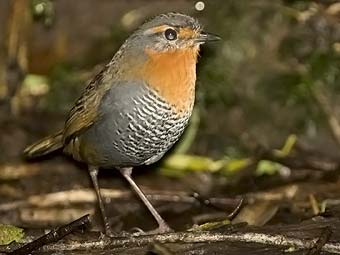 Out again before breakfast on the trail of a Chucao Tapaculo to photograph. Eventually I managed to get a reasonable shot using manual focus. There were quite a few around during our stay and they were not too difficult to see but they proved very difficult to photograph. They are charming birds.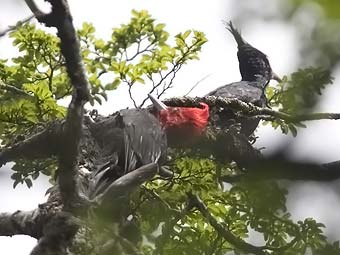 The day was looking not too bad so we drove up to Antillanco and I worked my way down slowly by car while the hikers walked down. Amongst others, I managed to see a pair of Magellanic Woodpeckers and a Chilean Pigeon. Back at base, there was a pair of Torrent Duck on the Rio Chanleufu and it was fascinating to watch them flying upstream following the contours of the river. Apparently they never fly downstream but work their way down on or under the water.
Tuesday, 29th November:
After another useful session before breakfast we set of at about 10:00am for Chiloe. We arrived at Pargua at about 1:00pm. There are quite a few smallish ferries constantly working the relatively short crossing so there was not much of a queue. There were quite a few good birds seen on the crossing including large flocks of Sooty Shearwater but the highlight was a Common Diving-petrel which is rarely reported in Chile and is vastly outnumbered by the Magellanic Diving-petrel.
We arrived at Caulin Lodge, unpacked and had a long walk along the beach. This was spectacular with lots of good birds including Chiloe Widgeon, a large flock of Black Skimmers, a few Hudsonian Godwit and lots of Black-necked Swans.
Wednesday, 30th November: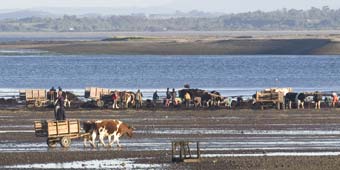 Up early to watch the nearby villagers harvesting the pillola seaweed which they dry and sell mainly to Japan where it is used in a variety of cosmetic and food products. It is still done mainly with ox carts though some modernistas are into using tractors. Birds seen included a Plumbeous Rail which was right out in the open.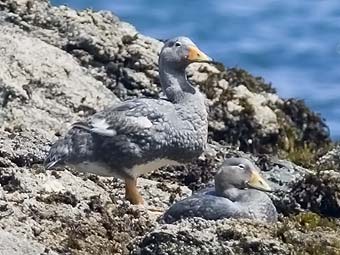 After an excellent breakfast, we set off for the Lucay Peninsula and specifically the Guabun beach. Here I found a small offshore rock where a pair of Flightless Steamer-duck and a Blackish Oystercatcher were nesting. We then headed towards Fort Agüi, notable for being the last stronghold of the Spanish Empire in Latin America.
As we walked up the path through the scrub towards the fort, I heard the distinctive scratching of a Black-throated Huet-huet and, while I was looking for it, I heard another strange cheep call. Turning round I saw a pair of very young Ochre-flanked Tapaculo who were quickly joined by a worried looking adult. It was too close for me to focus in this narrow path so I didn't get a photo of the adult but I did eventually manage a couple of shots of the youngsters. On the way back to Ancud I came across a flock of Slender-billed Parakeet.
Thursday, 1st December:
We decided to go to the Isla Quinchao for the day but not before I had my usual pre-breakfast walk which proved as fruitful as ever as far as photos were concerned. The island itself was very attractive with excellent views of the snow-capped Andes off to the east but there were no great novelties as far as birds were concerned. Back at base in the evening I saw a Coscoroba Swan which the locals told me had been quite scarce in these parts for the past few years.
Friday, 2nd December: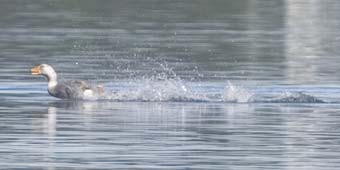 We had to leave for Castro but packed up with a degree of reluctance because we had enjoyed our stay at Caulin so much. However, before we left, I had one last walk along the beach and got a few more good photos including one of a Flying Steamer-duck actually "steaming".
We checked into our hotel in Castro and had a walk around the place. It's quite picturesque but didn't offer much in the way of birds.
Saturday, 3rd December:
We set off for the Chiloe National Park but it was not a great day for birding. It was showery and there was a gale blowing off the Pacific. We managed a short walk but conditions were not appropriate to walk as far as the southern beech forest. But I did manage to get some good photos of Baird's Sandpiper and I observed a Red-fronted Coot which might be a novelty for Chiloe.
Sunday, 4th December: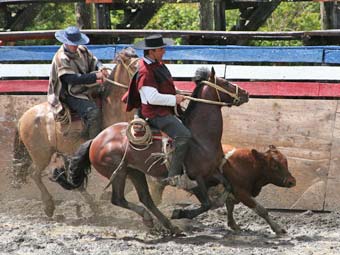 Without anything planned for birding, we decided to have a look at the local rodeo which had been advertised as starting at 8:30. By 11:00 there was a bit of activity - I think there had been some serious drinking going on the night before - and by about mid-day things got underway. It was fascinating and delightful and we were the only foreigners in a smallish crowd. We spoke to a few of the "huasos" who were terribly polite and extremely proud of their horses and horsemanship.
Then we headed back on the ferry towards Puerto Montt. There were fewer birds on this crossing but I managed to photograph some Magellanic Penguins swimming along the strait and a Southern Giant Petrel.
We then headed to Puerto Montt, checked into our hotel and then had a look around the port area.
Monday, 5th December:
This was a travel day as we took the plane from Puerto Montt to Punta Arenas, picked up another car at Punta Arenas and headed off to Torres del Paine. It took about 3 hours to drive to Puerto Natales, another 2 hours to the park entrance and a further hour to arrive at our hotel. On the drive the weather was good and the views got better and better until they were absolutely sensational.
Tuesday, 6th December: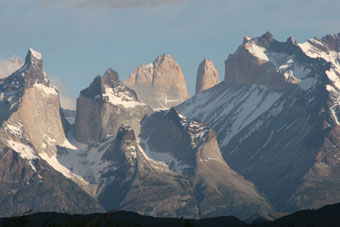 Having suffered from so much rain further north it was a great relief that, for most of our stay at Torres del Paine we would be blessed by decent weather. The view in the morning from our hotel was sensational. After breakfast we moved next door to Cabañas del Paine where my wife and I would stay for the next 5 nights while my sister-in-law and her husband went hiking round the Torres.
The first part of the hike involved getting a boat across Lago Grey to be dropped off at the first campsite. We had not realised that you had to book this boat so we were a bit dismayed to discover that the 3:00 pm boat was fully booked. There was another possible sailing at 6:30pm if enough people booked and if the weather was good. Fortunately, this proved to be the case and we went along for the cruise round the lake watching them being dropped off half way. They missed the best part of the cruise however, which consisted of drinking whisky on the rocks where the rocks consisted of 15,000 year old ice chipped off the glacier we were sailing in front of.
Wednesday, 7th December: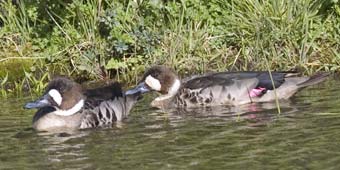 The two of us headed off in the direction of Hosteria Las Torres where we planned to have lunch. On the way there were some good birds such as Flying Steamer-duck and Spectacled Duck but the highlight was watching the birth of a Guanaco while a few Andean Condor soared above keeping an eye on proceedings.
After lunch we decided to go the long way round via the small town of Campo Cerillo where I hoped to fill up with petrol. We did eventually find the petrol pump which was hidden away under lock and key in a small kiosk - quite bizarre. This drive provided a few good photos including Mourning Sierra-finch, a few Chilean Flamingos, Red Shoveler, a male Darwin's Rhea looking after a large creche of youngsters, a group of Magellanic Oystercatcher and pair of Coscoroba Swans with youngsters.
Thursday, 8th December: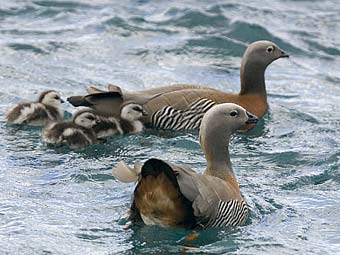 We spent the day walking in the area around the CONAF headquarters, where there is an excellent visitor centre and in the small patch of southern beech Nothofagus beside our hotel. I managed to get some good photos of species such as Chiloe Widgeon, White-tufted Grebe, Upland Goose, Red-gartered Coot, Thorn-tailed Rayadito, Patagonian Sierra-finch and a charming family of Ashy-headed Goose.
Friday, 9th December: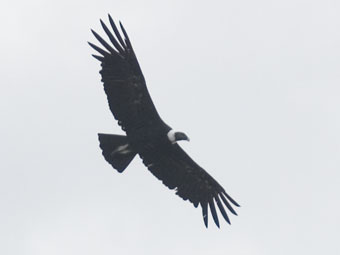 The weather was looking quite reasonable so we decided to walk the nature trail from Porteria Sarmiento. This was particularly good for flowers but we did also see a few Red Shovelers up in the small lakes as well as a Scale-throated Earthcreeper and quite a few Andean Condor.
Saturday, 10th December:
After breakfast we headed up the Rio Pingo trail from Hosteria Lago Grey. Though the sun was shining there was a terrific wind blowing off the glacier. It must have been gusting up to 100km per hour and it was difficult to keep standing on occasions. However, it was worth it to get not only some great photos of Rufous-tailed Plantcutter but also of a pair of Torrent Duck mating.
We had an excellent if expensive lunch at Hosteria Lago Grey the highlight of which was watching a pair of Austral Parakeet flying in and out of a nest-hole in a tree about 1 metre from the window. Nobody else seemed interested. I found that the small patch of southern beech forest on the track from the hotel to the Mirador was also very good for Austral Parakeet and we found another nest there.
Sunday, 11th December: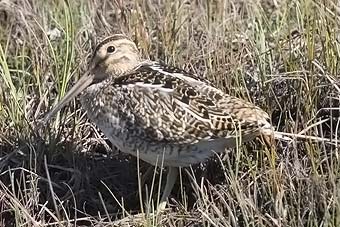 It was election day in Chile as we made our way slowly towards our rendezvous at Hosteria Torres managing a few photos on the way such as South American Snipe. The hike around the Torres had been a great success so we loaded up the car and headed off for Puerto Natales.
Here I remembered that no drink is available on election days in Chile and, as a result, all the hotels and restaurants were closed. Fortunately, we found a small place that served us soup and a sandwich before we headed on to Punta Arenas. We checked into our hotel where they told us their restaurant was closed. We wandered round Punta Arenas looking for something to eat and ended up at a hamburger joint which seemed to be the only place open and we had some empanadas and chips. It's been a long time since I spent a day without a drink.
Monday, 12th December: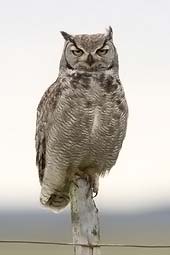 My 60th birthday so I had a few cards and then my sister-in-law presented me with a miniature of whisky and some shot glasses. I wished she had given me my present last night!
To celebrate my birthday we were going to Tierra del Fuego. Unfortunately the ferry from Punta Arenas to Porvenir does not run on Mondays so we drove to Punta Delgado and got the short ferry there from which we saw a few Magellanic Penguins. This meant we had a pleasant drive down to Porvenir. Birds seen on the road in Tierra del Fuego included Cinnamon-bellied Ground-tyrant, Patagonian Yellow-finch and a magnificent Magellanic Horned Owl. I couldn't believe my eyes when I saw it perched on a fence in broad daylight but apparently they are often seen during the day this far south.
The furthest south I got, indeed the furthest south I have ever been, was the sewage outlet at Porvenir where there were a few Chilean Skua and some very attractive Dolphin Gull. One day is not enough for Tierra del Fuego. I think there are a few places to stay in Porvenir at least and a few days exploring would be interesting.
We were back in Punta Arenas in time for an excellent celebratory dinner at Sotito's.
Tuesday, 13th December:
So that was the end of our trip. We caught the plane back to Santiago and spent the night there before flying back to Scotland.
Species List:
You will find a species list here.