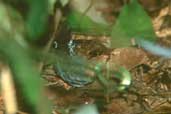 Carajás, Pará, Brazil
February 2002

The Southern Wing-banded Antbird is found in 2 disjunct areas: the lower Amazon Basin and the Guianas and the area where the Colombian, Ecuadorian and Peruvian borders meet. See the distribution map at Birdlife International.
It is fairly confiding and can be seen on or near the ground inside tall forest. Normally in pairs it flicks leaves over to look for invertebrate prey.

It has a short tail, short legs and a long bill and overall is a decidedly oddly proportioned bird. The male has a black throat and chest with a wide border of white scaled feathers. Its back is a rather cryptically patterned brown which blends in far too well with the leaves it is rummaging about in. The female has a rufous throat and chest.