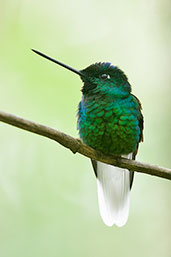 Santa Marta Mountains, Magdalena, Colombia
April 2012



The White-tailed Starfrontlet is endemic to the Santa Marta Mountains. See the distribution map at NatureServe. It is found in the interior or at the edges of montane forest. We found the female (photo 4) was fairly common at the feeders at the El Dorado Lodge but the males were only to be seen away from the lodge in the forest interior. It is found between 1,400 and 3,700 metres.

It feeds on nectar and some insects and is fairly territorial.