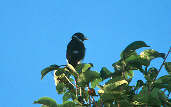 Parque Ecológico Lages, Presidente Figueiredo, Amazonas, Brazil
July 2001

The White-naped Seedeater is supposed to be restricted to the extreme south of Venezuela, the headwaters of the Rio Negro in Brazil and adjacent eastern Colombia. However, this site, some 100 kms north of Manaus has been known for a few years.
It is found in low scrub, especially in sandy-belt woodland clearings but we also found a pair foraging very close to the ground just inside the forest.

It is a large seedeater and the male has a white collar which almost meets at the back of the neck as well as a broad white wing-bar and a large, pale, pointed bill. Below it is white with a black chin.

There are illustrations in Ridgely & Tudor, Volume 1, Plate 26; and Hilty & Brown, Plate 56.