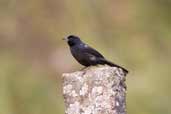 Brazil, Peru and Ecuador


The White-lined Tanager is distributed in Colombia, Ecuador and Peru, northern Venezuela, the Guianas, much of Brazil and into Paraguay and northern Argentina. However, it is absent from eastern and south-eastern Brazil and much of western Amazonia. See the distribution map at Birdlife International.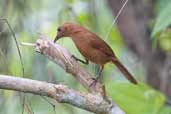 It is found in clearings and forest borders usually near water. Like most Tachyphonus, they are usually seen in pairs or small family groups. They feed on fruit, as in photo 3, and insects.

The male looks all black as in photo 4 but it can show its white wing-coverts as in photos 1 and 3. The lower mandible has a steel-blue base.