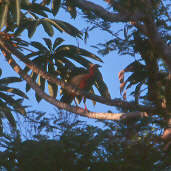 Amazonia National Park, Pará, Brazil
September 2000

A Brazilian endemic, the White-crested Guan is considered as a "Near Threatened" species. Although it seemed reasonably abundant in the Amazonia National Park, it is confined to a fairly small area south of the Amazon River between the lower Tapajós and the lower Madeira rivers.

It is a handsome bird with rich chestnut brown underparts, a blackish face with a red wattle and a white crest.