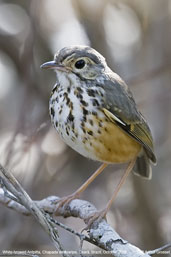 Chapada de Araripe, Ceará, Brazil
October 2008

The White-browed Antpitta is distributed in the interior of eastern Brazil from Ceará to the north of Minas Gerais and is a Brazilian endemic . It is found on or near the ground in semi-deciduous and deciduous woodland including caatinga.

It is olive-grey above with two short and faint wingbars. There is a white supercilium or "brow" while the underparts are white with prominent black or dark brown spots and rufous flanks. The legs are pinkish.

They are normally very shy and difficult to see but this was one of a pair that seemed to be quite happy to jump up on a low branch and pose for a photo.