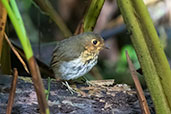 Ecuador
November 2019

The Ochre-breasted Antpitta is distributed from Costa Rica through Panama to Colombia, Ecuador, Peru and Bolivia. It is on the western slope of the Andes to southern Ecuador and on the Amazonian slope as far south as central Bolivia. See the distribution map at xeno-canto.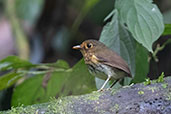 It is classified as Near Threatened given the predicted deforestation that is forecast in its habitat.

There are 8 sub-species that vary in plumage characteristics. Here we have two. Photos 1 and 2 from the west side of the Andes show the sub-species G. f. mindoensis which is much paler on the underparts especially the flanks than the nominate sub-species from the eastern slope of the Andes shown in photos 3 and 4. There is also a significant difference in the bill colour with the eastern birds having an orange bill compared to the bicoloured bill shown in the other 2 photos. Bill colour does, however, vary within sub-species.