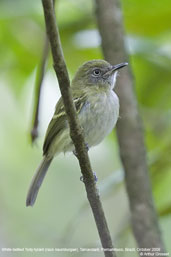 Tamandaré, Pernambuco, Brazil
October 2008


The White-bellied Tody-Tyrant is distributed in the Amazon Basin south of the Amazon river with a disjunct population in north-east Brazil from Rio Grande do Norte to Alagoas.

When Ridgely & Tudor published in 1994, this species was regarded as conspecific with White-eyed Tody-Tyrant H. zosterops though they did note that "Griseipectus is quite different, grayer on breast (less olive) with a whitish belly; naumburgi (ne. Brazil) is similar." and "More than one species may be involved in which case H. griseipectus (with naumburgi) could be known as the White-bellied Tody-Tyrant."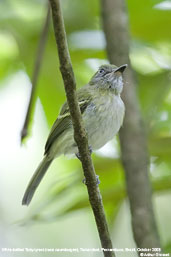 HBW Volume 9 published in 2004 separated White-eyed H. zosterops from White-bellied H. griseipectus but left this sub-species naumburgae in H. zosterops with the comment "vocal characters suggest that geographically isolated race naumburgae may belong with that species [H. griseipectus]" Nowadays all authorities seem to treat the bird pictured here as the sub-species naumburgae of White-bellied Tody-Tyrant H. griseipectus .

It is found in humid forest where it perches inconspicuously before sallying upwards to glean insect prey from the undersides of leaves.

Apart from its greyish underparts and pale, whitish eye, it has two yellowish wing-bars and a pink base to its lower mandible.

There are recordings and a distribution map on xeno-canto and additional information is available on Avibase .