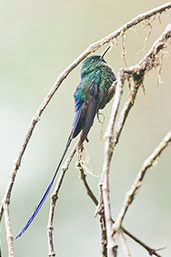 Colombia and Ecuador


The Violet-tailed Sylph is distributed on the Pacific slopes of the western Andes in Colombia and Ecuador. Photos 1 to 5, taken in the Tatamá National Park are close to its northern limit. There is a distribution map at Birdlife International.

It is found in cloud forest and semi-open land at between 1,000 and 2,000 metres.

The male is very similar to Long-tailed Sylph A. kingi but has a blue rather than green tail, a more violet gorget and a bluer rump. The female (photos 4 and 5) has a blue crown, green spots on the throat, a white chest and cinnamon rufous belly.