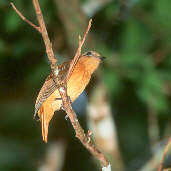 Anavilhanas, Amazonas, Brazil
July 2001

There is some doubt as to the relationship of the Schiffornis genus to other families. They seem to fall somewhere between true manakins, cotingas and tyrant flycatchers. The HBW and Birdlife International checklist places them with the Tityras and allies.

The range of the Varzea Schiffornis lies in the Amazon Basin upstream of the rio Tapajós. See the distribution map at Birdlife International. It is found almost exclusively in várzea forest.