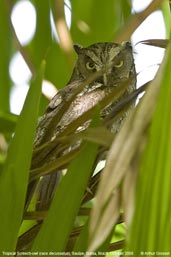 Brazil


The Tropical Screech Owl is distributed from Costa Rica to most of South America east of the Andes and north of central Argentina.

It is found in a wide variety of forest and wooded habitats, semi-open areas and even urban environments.

There are a variety of different coloured morphs ranging from grey through grey-brown and brown to rufous. There are two very different colour morphs here if you compare photos 1 and 2 with photos 3 to 4.

It feeds mainly on insects as well as spiders, earthworms and, occasionally, small mammals.