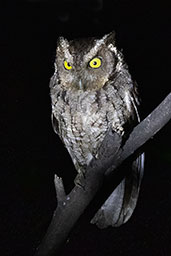 Chaparri, Lambayeque, Peru
October 2018

The Peruvian Screech-owl is distributed in southern Ecuador and north-west Peru. See the distribution map at Birdlife International. It is found in dry deciduous woodlands with bushes and cacti.

Some authorities split the species into Peruvian Screech-owl M. roboratus found between the west and central Andes at altitudes between 500 and 1,200 metres in the drainage of the R Chinchipe and R Marañón. and the smaller Tumbes Screech-owl M. pacificus found in the lowlands below about 500 metres. These photos would be of the Tumbes sub-species.