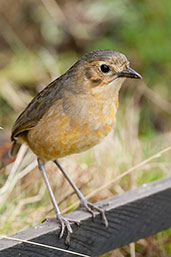 Colombia and Ecuador


The Tawny Antpitta is distributed in the Eastern Andes of Colombia and the Central Andes from central Colombia through Ecuador to northern Peru. See the distribution map at xeno-canto. It is found in elfin forest and páramo between 2,200 and 4,500 metres.

The song is a series of 3 notes with a slight pause after the first which is usually the highest pitched.