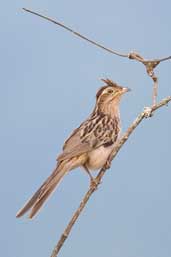 Carajás, Pará, Brazil and Amagusa Reserve, Ecuador


The range of the Striped Cuckoo extends from southern Mexico to northern Argentina where it is found in scrubby and open areas or in forest clearings. See the distribution map at Birdlife International.

It has a conspicuous crest and a long, graduated tail. It has a whitish supercilium and a dark malar stripe. Above it is greyish brown with black streaks while below it is dull white.