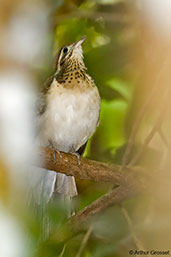 Fazenda Michelin, Itubera, Bahia, Brazil
November 2008

The Pheasant Cuckoo is distributed from southern Mexico through Central America to most of tropical South America in the appropriate habitat which is mainly tropical forest including evergreen, deciduous and low-altitude cloud forest. See the distribution map at Birdlife International. Although widespread it is secretive and difficult to see though its distinctive song is easier to encounter.

It feeds on insects and lizards and is a brood parasite laying its eggs in the nests of birds such as flycatchers.