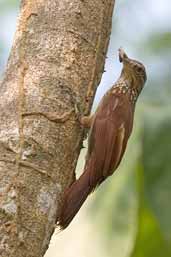 Brazil and Peru.

The Straight-billed Woodcreeper's range is the Amazon and Orinoco Basins, eastern Brazil south to Espírito Santo and northern Colombia into Panama. See the distribution map at Birdlife International.

It is rarely found inside the forest but prefers forest edges, várzea forest, light and secondary woodland and mangrove swamps.

It is recognised by its pale, dagger-shaped bill and the large spots on its chest.

Photos 1 to 3 were taken at Carajás, Pará while photos 4 and 5 were taken at Serra de Baturité, Ceará. They are all of the nominate sub-species. Photos 6 and 7 were taken at Rioja, San Martin, Peru and are, presumably, D. p. peruvianus.