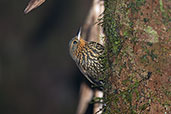 Colombia and Ecuador


The Spotted Barbtail is distributed from Costa Rica through Panama to the mountains of northern Venezuela and the Andes of Colombia, Ecuador, Peru and Bolivia. There is a distribution map at NatureServe. It is found mainly at between 900 and 2,500 metres in the undergrowth of forest.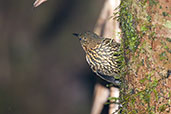 It is normally unobtrusive as it creeps along mossy covered trunks and branches.

Photos 1 and 2, taken at Santa Marta, show the sub-species B. p. coloratus which has a more ochraceous throat than the nominate sub-species shown in photos 3 and 4.