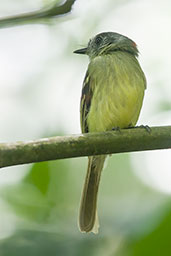 Otún-Quimbaya, Risaralda, Colombia
April 2012

The Slaty-capped Flycatcher is distributed in the Andes from northern Venezuela to western Bolivia as well as Costa Rica, Panama and Trinidad. See the distribution map at NatureServe. It is found in lower montane forest at between 500 and 1,800 metres.

It has a slaty-grey crown and a grizzled grey face with dusky ear-coverts. The wing bars vary in colour from white through yellow to ochraceous. The throat is pale grey, the breast olive and the belly is yellow.