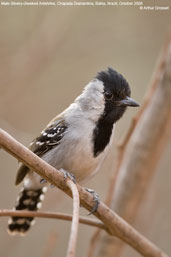 Brazil

The Silvery-cheeked Antshrike is a Brazilian endemic found in the north-east where it inhabits deciduous woodland, caatinga and cerrado scrub.

The males show the black crest, face and bib, the silvery cheeks and sides of the neck, and the rufous-brown wings with white wing-bars. The tail is black with bold white bars.

The female, seen here in photo 3, is pale rufous above with brighter rufous on the crown and tail and buffy-white on the underparts. The immature male in photo 4 has a duller back and crown than the female but significantly has the patterned tail which is plain rufous-brown in the female.