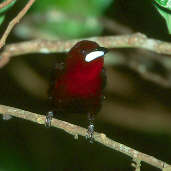 Brazil


The Silver-beaked Tanager is found in the northern half of South America east of the Andes but is missing from south-east Brazil where its geographic replacement is the Brazilian Tanager Ramphocelus bresilius. See the distribution map at Birdlife International.

It eats fruit, insects which it gleans on foliage, and, in some cases, nectar.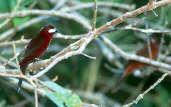 It is a common bird which frequents forest borders, clearings and gardens. It is usually associated with water.

The male can look very dark but in good light it is possible to make out the rich maroon tones and the deep crimson on the throat and chest. The male's mandible is a gleaming silvery-white while that of the female is greyish, The female is reddish brown above and paler below. I'm not sure if photo 3 shows a female or a sub-adult male.