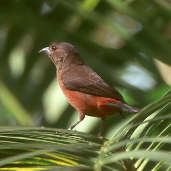 The male is, however, much more brightly coloured than the Silver-beaked Tanager. Like all Ramphocelus tanagers it has a shiny white area at the base of the lower mandible. The male acquires this plumage in its second year and immature males look like a mixture of male and female plumage.

The female is much duller but only in comparison to her mate. They are very attractive in their own right.

They are normally found near water, either the ocean or a river.