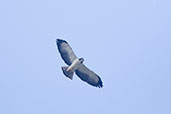 It is identified (in its normal, pale phase) by its black hood and generally white underparts. It shows the usual broad wings and short tail of the buteos.

It is found from Florida, along the Caribbean coast of Central America, throughout most of tropical South America and into Paraguay and northern Argentina. See the distribution map at Birdlife International. Within this range it is found in a wide variety of habitats.

It feeds mainly on small birds which it takes off the tree canopy after swooping down from a height of over 100 metres.