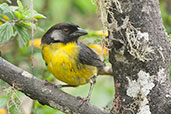 Sierra Nevada de Santa Marta, Magdalena, Colombia
April 2012

The Santa Marta Brush-finch is one of the more easily seen Santa Marta endemics. See the distribution map at NatureServe.

It is found between 1,000 and 3,000 metres at forest borders and secondary growth but never in the interior of mature forest.