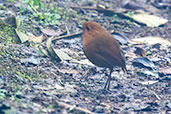 Yanacocha, Pichincha, Ecuador
November 2019

The Rufous Antpitta is distributed from western Venezuela through Colombia, Ecuador and Peru to central Bolivia. See the distribution map at xeno-canto. It is found on or near the ground in forest and forest edges and has a particular affinity to bamboo. In Ecuador it is found between 2,200 and 3,300 metres.

It is a small Antpitta with a rather richer rufous than is shown in this misty photo.