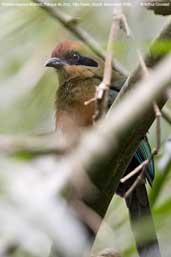 Brazil



The Rufous-capped Motmot is distributed in east and south Brazil, eastern Paraguay and north-eastern Argentina. It is found in the Atlantic Rain Forest and is the only motmot found in south-east Brazil.

It has a rufous head with a black mask. Upperparts are green while below it has a rufous breast band on otherwise olive-green underparts.

It feeds mainly on insects, snails, reptiles and small mammals and birds but also eats some fruit.