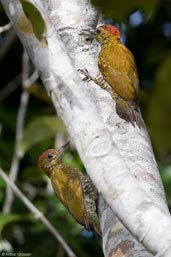 Brazil


Red-stained Woodpecker is distributed in the Amazon Basin south and west of the rivers Negro and Amazon with a disjunct population in eastern Brazil from Pernambuco to Bahia.

It is found in humid forest and in forest edges and secondary growth.

The male, seen here in photos 1 and 2, has a blackish forehead turning to red on the crown and nape. Upperparts are yellowish-brown with distinct pale spots on the wing coverts. Underparts are barred browny-black and whitish.

The female, as in photo 3, lacks the red on the crown and nape.