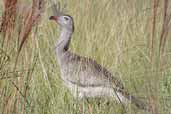 Vila Bela de Santíssima Trindade, Mato Grosso, Brazil
March 2003

The Red-legged Seriema is distributed from central and eastern Brazil through eastern Bolivia, Paraguay and Uruguay into central Argentina. It is found in open woodland, grassland and other open areas such as chaco, caatinga and cerrado.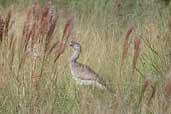 They are about half the height of Greater Rhea Rhea americana, a bird found in the same type of habitat. It is unmistakable with its raised crest, pink legs and normally red bill. This bird has a dark grey maxilla which may signify that it is an immature.

They feed on beetles, grasshoppers, lizards, snakes and rodents as well as grain. Its main strategy to escape predators is to run very fast occasionally flying awkwardly for short distances.

There is some doubt as to its exact relationship with other bird families but it is generally included with the Cranes Gruiformes. Superficial similarities to the Secretarybird Sagittarius serpentarius should be put down to convergent evolution.