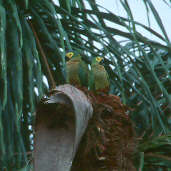 Brazil

The Red-bellied Macaw was, for a while, placed in the genus Ara but Sick in particular argued strongly that for morphological, behavioural and vocalisation reasons, it should not be regarded as a true macaw despite the fact that it has bare facial skin. Most authorities now place it in the genus Orthopsittaca which is a bit more of a mouthful; it's much easier to shout out, "There's an Ara manilata" than "There's an Orthopsittaca manilatus".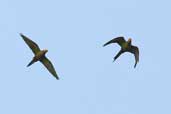 Significant features are its yellow facial skin, black bill, and reddish belly though this last feature can be difficult to see even when perched. In flight, the undersides of the wings and tail are a dull yellow.

It is found in the Amazon basin and favours Mauritia palm groves. It feeds almost exclusively on the palm nuts and nests in holes in the palms. These are normally standing in water which affords an additional protection against predators. This photo was taken in the late afternoon as these two birds roosted on the top of a dead palm.