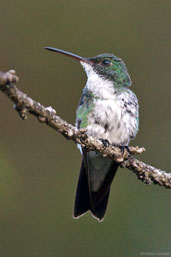 Tamandaré, Pernambuco, Brazil
October 2008

The Plain-bellied Emerald is distributed along or near the coast of north-eastern South America from eastern Venezuela through the Guianas to north-east Brazil with disjunct populations in Pernambuco and Bahia.

It is found in mangroves, forest edges, cerrado, caatinga and gardens. These photos were taken in a garden opposite an excellent fish restaurant in Tamandaré.

Upperparts and flanks are green while the wings and tail are brownish bronze. The throat and underparts are white. The bill is almost straight and the upper mandible is dark while the lower mandible is pink with a dark tip although this is only obvious in certain lights as in photo 2.