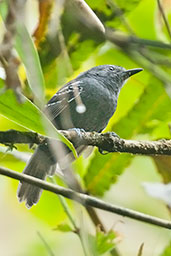 Cerro Montezuma, Tatamá, Risaralda, Colombia
April 2012

Parker's Antbird was described only recently (1997) and was named in homage to Ted Parker III.

It is distributed in the Andes of west-central Colombia at between 1,100 and 1,850 metres in forest and forest borders where it seems to prefer young, shrubby patches. See the distribution map at Birdlife International.

The male, pictured here, is slate-grey above and slightly paler below with the wings and tail being slightly darker grey. The wing coverts and tail feathers are narrowly tipped white. The female is grey-brown above and rufous-buff.