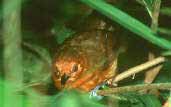 Carajás, Pará, Brazil
February 2002

The Blackish Antbird is found in the Guianas and in the Amazon Basin, mainly south of the Amazon and into Colombia, Ecuador, Peru and Bolivia. See the distribution map at Birdlife International.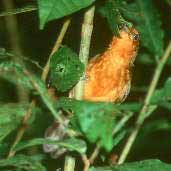 These two photos are of a female with her olive brown back, which has a concealed white dorsal patch, and bright rufous-orange underparts extending to the sides of the head and the forecrown.

The male is slaty grey with white at the bend of the wing and small white fringes to the wing coverts forming a wing-bar. It has no white on the tail.

It is usually in pairs in dense undergrowth or thickets at forest edges mainly in várzea forest.