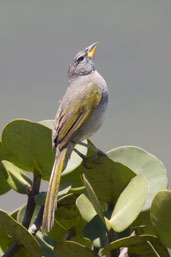 Chapada Diamantina, Bahia, Brazil

The Pale-throated Pampa-finch is a Brazilian endemic and is classified as Near-threatened by Birdlife International

It is found in campos rupestres or high serra grassland and scrub in the interior of Bahia and Minas Gerais. It is normally between 700 and 1300 metres above sea level.

It has a long, narrow tail, a narrow, broken white eye-ring interrupted at front and rear, a white throat and light grey underparts. The mandible is yellow.

.