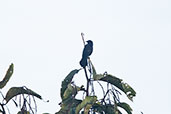 Reserva Tanguim, San Martin, Peru
October 2018

The Pale-eyed Blackbird is distributed in isolated areas of Peru and Ecuador. It is described as being rare and local. See the distribution map at Birdlife International. It is found in marshes and wetlands especially on the margins of oxbow lakes up to about 650 metres.

Its main distinguishing feature is its pale eye which differentiates it from the very similar Unicolored Blackbird A. cyanopus.