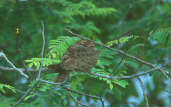 Brazil


The Nacunda Nighthawk is found in South America east of the Andes in two groups: Colombia, Venezuela, Guianas and extreme north of Brazil; and south of the Amazon to central Argentina. See the distribution map at xeno-canto.

Roosting on a bush, this female shows few of the distinguishing features which include a white throat patch and, in flight, white belly and flanks and very distinctive white bands on the wings. The male has white tips on its tail feathers.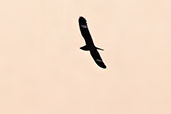 Habitats include forest edges, river edges, savanna and marshes.
Some authorities place it in a monotypic genus "Podager" which comes from the Latin for a man suffering from gout and reflects the awkward walking gait of this nighthawk while the specific name "nacunda" is derived from the Guaraní Indian word for a big-mouth.