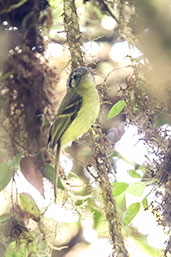 Montezuma, Tatamá, Risaralda, Colombia
April 2012

The Marble-faced Bristle-tyrant is distributed in the Andes from Colombia to central Bolivia with a disjunct population in the hills around Caracas.. See the distribution map at Birdlife International. It is found in the borders of montane forest in the mid-storey and sub-canopy at altitudes mainly between 800 and 2,200 metres.

I originally identified this bird as Ashy-throated Tyrannulet Phyllomyias cinereiceps but, as Avery Bartels of eBird pointed out, this bird has a longer tail and more pronounced wing bars. It also has a mottled rather than streaky breast.