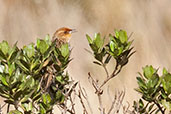 Colombia, Ecuador and Peru
April 2012

The Many-striped Canastero is distributed in the Andes from Colombia to central Peru. There is a distribution map at Birdlife International. It is found at or above the tree-line in Páramo grassland normally at altitudes between 3,000 and 4,500 metres.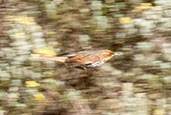 It is a heavily striped Canastero with a lot of rufous-chestnut on the wing feathers and a pale supercilium.

There are 5 sub-species diferentiated mainly by the amount of rufous on the face and the colouring of the throat. Photos 1 and 2 from the Nevado de Ruiz in Colombia is the sub-species A. f. quindiana, photo 3 from Cajamarca, Peru is A.f. taczanowskii and photos 4 and 5 from Antisana, Ecuador is the nominate sub-species.