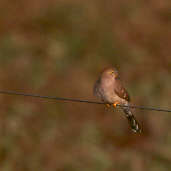 Pantanal, Mato Grosso, Brazil


Some authorities recognise two subspecies of the Long-tailed Ground Dove. The nominate subspecies is found from the mouth of the Amazon south to Minas Gerais. These photos are of Uropelia campestris figginsi which is found in the Mato Grosso and Bolivia. However, Howard & Moore 2013 regard the species as monotypic. There is a distribution map on xeno-canto .

It is found in open country and light woodland normally near some water.