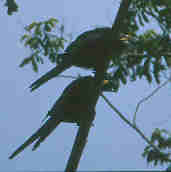 Hyacinth Macaw Anodorhynchus hyacinthinus
Brazil
Classified as Endangered with about 6,000 birds left, these magnificent birds are the longest and 2nd heaviest members of the Parrot family in the world. They deserve much better photos and the fifth photo is a move in the right direction.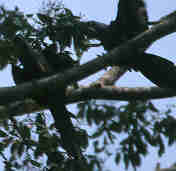 It is found in várzea and savannahs beside tropical forest in east Amazonia, cerrado and palm groves in central Brazil and in the palm-savannahs of the Pantanal.

There are three main constraints on its population: firstly, the illegal trade for the caged bird market; secondly, habitat loss leading to a reduction in available food (which comes from a small number of palm species); and, thirdly, habitat loss leading to the loss of the trees where cavities provide nests for the macaws.