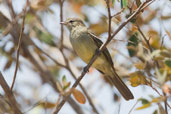 Mucugê, Bahia, Brazil
October 2008

The Highland Elaenia is distributed along the eastern slope of the Andes from Ecuador to north-western Argentina with a disjunct population in south-east Brazil from Minas Gerais and Mato Grosso do Sul to northern Uruguay, north-eastern Argentina and eastern Paraguay.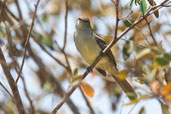 These photos were taken at Mucugê in the Chapada Diamantina, Bahia which is probably the northern limit for this species in Brazil. Note that, while HBW states, "single record from Bahia (Brazil) could have involved a wanderer outside breeding season", an article in Cotinga 11 (1999), Pp 86-95, Birds of the Chapada Diamantina, Bahia, Brazil by Ricardo Parrini et. al. records Highland Elaenia at 4 sites)

It is a large elaenia with a long tail and a rounded head with a short bill. It has two yellowish wing-bars, a pale yellow throat, dull olive breast and flanks and a yellow mid-belly.

There are recordings on xeno-canto, a distribution map from NatureServe and additional information available via Avibase. There is also a page on Wikiaves.